Why entrust us your search

for offices in Hong Kong?
Without fees

There is no fee for you: you pay absolutely nothing while being accompanied from A to Z by our team of corporate real estate experts!

Time saving

Our promise is to save you time in your research: to be the single point of contact between you and the various players in flexible offices.

100% of the offer

With access to more than 100 spaces in Hong Kong and exclusive offers of offices in sublease, it is still easier to find your offices ....
Want help to find

a co working space ?

Fill-in the form below, our team will contact you to take your needs and accompany you free of charge
The advantages of coworking

for companies
Getting the precise market size of coworking is difficult because it develops every month. The market depends on how individuals and firms value the market, the membership and the gross revenue. The estimate of the coworking marketing also includes commercial leases, assets and various miscellaneous. Real Estate Experts have projected that Coworking is expected to grow in the coming years and would be valued nothing next to HK $50 trillions in the next five years.
There are numerous juicy benefits Coworking can have for companies and businesses, they include :
Cost Reduction
The Covid-19 pandemic has ravaged many businesses and companies which have made them retrench many of their staff. However, using coworking spaces can reduce the cost of rent especially for those who don't know to own the buildings.
Increase productivity from staffs
It has been ascertained that people who work together will produce more than when working in isolation. This is good news for firms who want greater productivity in their business. Coworking allows staff to work faster and better.
More Network opportunities
A huge advantage of Coworking space is that employees will have greater networks which will rub off eventually on the company. When staff work closely with one another instead of a separate office, they create a bond that drives the business to get better results.
Employees become more creative
With Coworking spaces, individual and staff see unique and fresh perspectives that will help solve complex companies issues. This allows the workers to think and have alternative solutions to several logical problems that will help the firm in the long term.
Better flexible service agreements
Whether small, medium or large companies, many coworking spaces provide an easy agreement. A firm might decide to cancel its membership anytime it likes. This is helpful as helps the firm try out and see if the Coworking spaces are what they want, if they like it, they continue, if not they cancel.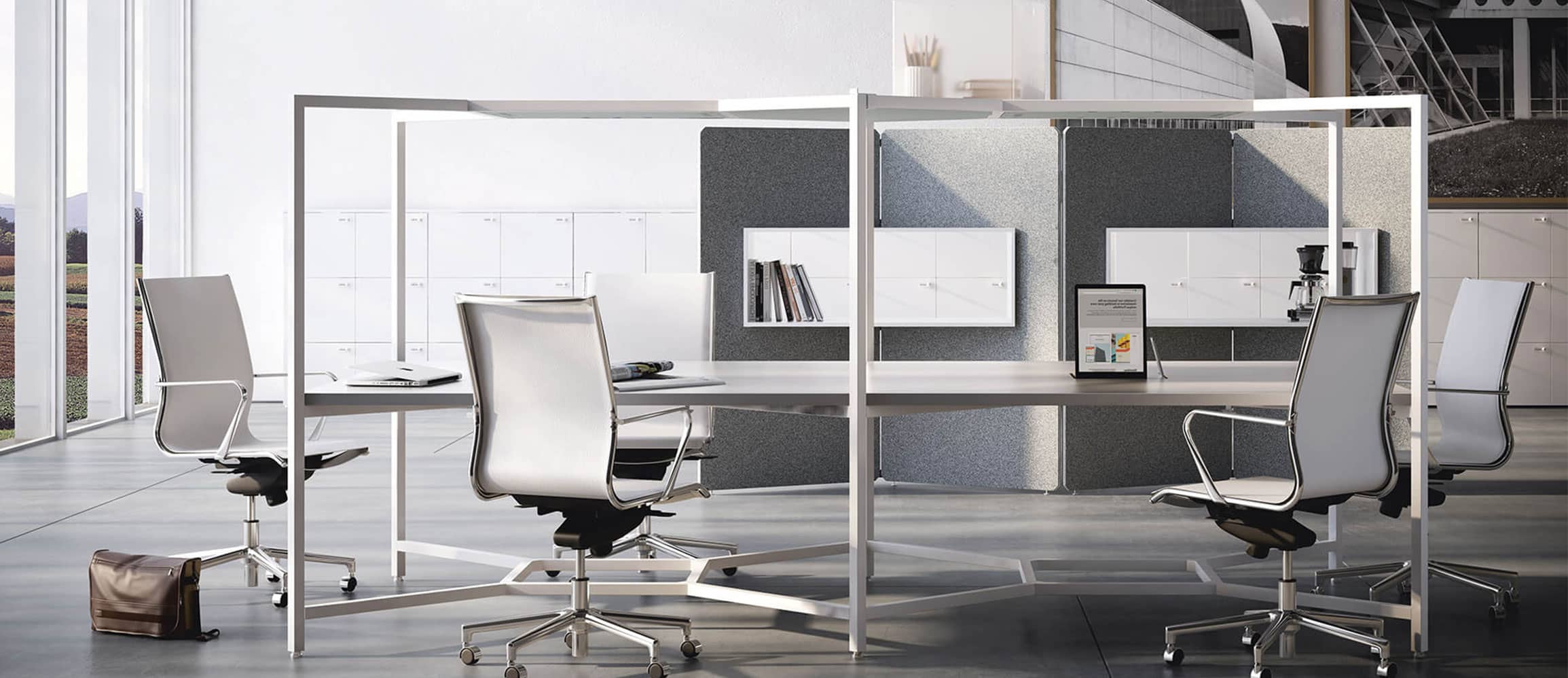 Search for you without fees?
Do you want to save time in your research? You don't want to pay disproportionate fees?
Contact us, we will help you find your offices throughout Hong Kong!
Find out more
Co-working Spaces

in Hong-Kong
Coworking spaces are primarily official workspaces that are shared by staff. These provide a good avenue for employers who wish to avoid home offices or coffee shops. The advent of the Covid-19 has increased the interest of many for coworking spaces especially in Asian countries like Hong Kong. Many firms in Hong Kong are striving to cut cost therefore maximizing their resources.
Startups and Agencies in this country also love to take advantage of these coworking spaces. This article will talk in detail about the coworking market, the benefits of using coworking are for companies and the plethora of business districts of Hong Kong. You will also get various examples of coworking in Hong Kong, prices and various services offered.
The Hong Kong coworking market
The coworking market in Hong Kong is valued at as much as HK $25 trillion as of December 2020 making it one of the most profitable industry in the country. Many real estate moguls recognize the immense potential in the Coworking market because of the many untapped benefits that it has. When you check online data and research statistics or the coworking market, growth and projections, it looks very promising.
The Different Business Districts

of Hong Kong for coworking
Hong Kong has different business districts which will includes:
Kowloon
This business district in Hong Kong spans about 120 acres of land which was reclaimed from Victoria Harbor. It is an excellent business district with investments worth more than HK $25 billion and includes many artistic and cultural locations. Kowloon houses Hong Kong top firms and startups and is a major destination for international companies.
Tsim Sha Tsui
This is one of the most exciting neighborhoods in the southern Kowloon Peninsula. Tsim Sha Tsui is one place every tourist to Hong must visit because of its cheap foods, affordable accommodation and stable electricity. Your business can be close to the Avenue of Stars, K11 and Golden Mile. Eating avenues includes Michelin restaurants, Cantonese cuisines amongst others. These Hong Kong business district is a place where work and leisure meet and a good location for coworking spaces.
Mong Kok Central
When we talk of markets in Hong Kong, the best place to visit is Mong Kok Central Various markets like Dundas, Fa yuen and Sai Yuen Choi are amazing places to visit. Companies can place their Coworking spaces in these districts because it offers perfect several mouth-watering opportunities to staff.
Wan chai
This was formerly renowned as Hong Kong Red light districts, however, events have taken over and are now a place where exotic hotels, top Asian firms and cultural centers reside. Wan Chai boast of the top Hong Kong Arts Center, School of Performing arts and a Huge Exhibition center.
Causeway bay
Very close to Wan Chai place is the Causeway Bay where many departmental stores reside and can be patronized at good rates. The Causeway Bay is usually filled with Asian tourists who are looking for quality and affordable products all year long. Getting a coworking space close to these areas is a good decision.
Happy valley
This was formerly a swamped land in Hong Kong, however, things have changed as it is now a modest business district where business operations are carried out daily. Firms who want a quiet location where they can operate without too much traffic and notice should consider this avenue.
Aberdeen
Moving towards the south side of Hong Kong is where you will locate Aberdeen. It was formerly a big fishing town, however, it is now filled with high-rise buildings and enormous real estate projects. It is still surrounded by seas, though, so one could still see various floating cuisines and a plethora of Sampans. Close to Aberdeen are a deepwater bay with their great aquarium and amusement parks.
Example of Coworking Spaces Services

to Patronize in Hong Kong
Firms, startups and businesses who wish to have an affordable Coworking space in Hong Kong, can check out the following platforms.
Regus Hong Kong
Regus is renowned as a top provider of flexible Coworking spaces in Asia and the world. Their clients include some of the biggest multinationals firms around. They offer good offices and affordable membership fees. Their top clients include Google, Toshiba, AT and Huawei. They are available in more than 51 countries and more than 299 locations.
WeWork Hong Kong
This workspace platform is known for quality Office Coworking space and numerous locations. It is a close competitor with Regus and features services like Free WiFi, parking space and snacks. Many big multinationals like WeWork because of its flexible rates and conducive environment. WeWork remains one of the reputable co-working space firms in the world.
Spaces Hong Kong
Unlike its other rivals, Spaces offers larger space for employees. Therefore, freelance agencies and startups seeking a workspace that will bring together all its staff could patronize them. Spaces can be found in Hong Kong, China, the US, UK and other European countries. They have various memberships plans which are affordable for everyone irrespective of status.
Thedesk Hong Kong
Thedesk provides top-notch facilities and amenities for businesses in a single location. They are an amazing professional firm that offers entrepreneurs, agencies and other remote workers the option of being together. Their places are designed to help the various businesses grow and offer better value for money than any other coworking space in Hong Kong.
Executive Center Hong Kong
This Workspace firm has been around for over 20 years providing quality workspace solutions to their clients across Asia, America, Middle East and Australia. Their centers have all the services which will ensure efficiency and better productivity. They can be found in numerous business districts across Hong Kong. Businesses who want to take their operations to a higher level should visit them to get good service at good rates.
Frequently Asked Questions

about coworking in Hong Kong
Hong Kong offers plenty of opportunities with an all-inclusive budget for plug'n play office, you benefit large common areas and great contractual flexibility.

The promise of workin.space is to save you time in your research in Hong Kong thanks to our market expertise and our advice, and all of this without any fees!

We are in partnership with over 100 coworking spaces in Hong Kong. Contact us to visit them!

Price depend if you want a daily pass or a monthly subscription ! around HK$300 per desk for a daily pass and around HK$4000 per desk for a private office ! Contact us if you want a quote

It's up to you: a few weeks, a few months or a few years! Focus on your business, we take care of your offices!
Examples of Prices for

Coworking spaces in Hong Kong
It is relevant to know that getting an accurate coworking space price varies accordingly.
It depends on the platform you are using, the business districts you want to reside, services required and other factors.
An average desk price of a coworking space is around HK$600 to 750 monthly.
Daily or monthly membership
Looking at the various coworking space rates using the desk will give:
Daily pass (around HK$50), Daily Part-time desk (HK$38), Monthly membership (HK$385), Monthly Stable Desk (HK$700), Monthly rates for Private office for 25 members of staff (HK$190) per square meter.
The above estimates should include the following services, Internet connection, reception services, portable kitchen, dining spaces, toilets and washing areas.
Workin.space can help you to find the best price for your coworking space !
Services provided to businesses

in Coworking Spaces
​The plethora of Coworking spaces should offer standard service to their clients irrespective of the plans they sign up for, these services may include:
Reception Services
This should consist of a dedicated receptionist at the front desk which will allow smooth running and management of meetings and enhance efficiency. The receptionist will be in charge of calls, distributing memos and reservations.
Placement logo
Since you are sharing your business with several other firms, most Coworking firms provide eye-catching logos which will consist of your businesses and where you can be located.
Networking Events
Many top coworking firms provide regular social events which will bring their customers together and improve networking. This helps to enhance collaboration and share intellectual ideas. Child and pet-friendly avenues. In recent years many Coworking platforms have started offering on-site child care and pets spaces for those who want to balance work and personal issues.
Fitness initiatives
Many flexible offices now have gym and wellness centers to keep their clients fit and healthy. These services include Yoga, gym classes and massage. Breakout locations. Some coworking offices also have some excellent shared spaces to rest during breaks. These may include pools, game centers or gardens.
Hong Kong remains a perfect country where working conditions and pay rates are good. Most multinationals and companies can use the various Coworking Space offices available in the country for their businesses at good prices. There is a plethora of business districts in Hong Kong which these companies can locate and operate safely. The next big thing in the real estate market is Coworking, take advantage of its opportunities today.