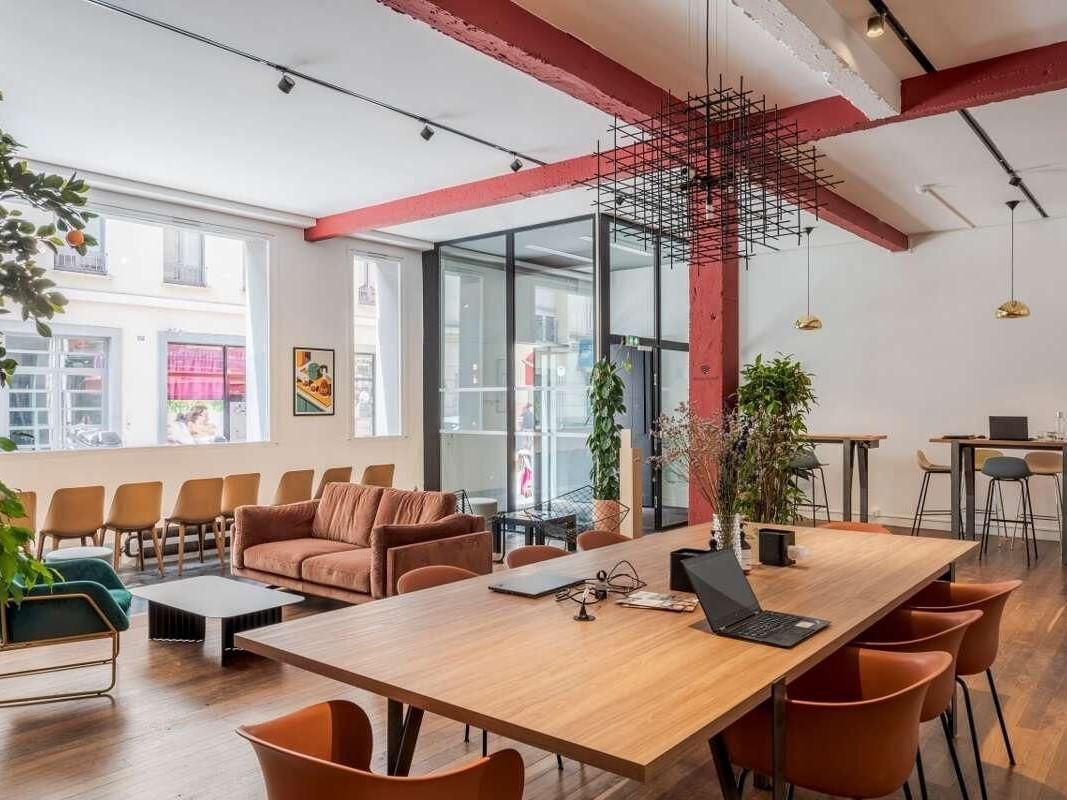 Top 10 most beautiful meeting rooms in Paris
All available on workin.space, these meeting rooms will make your customers dream and your partners marvel. They will contribute to your success and help you welcome your guests in the best possible conditions. Here are the 10 most beautiful meeting rooms in Paris, their advantages and their maximum capacity.
1. Spacious, bright meeting room - Paris 9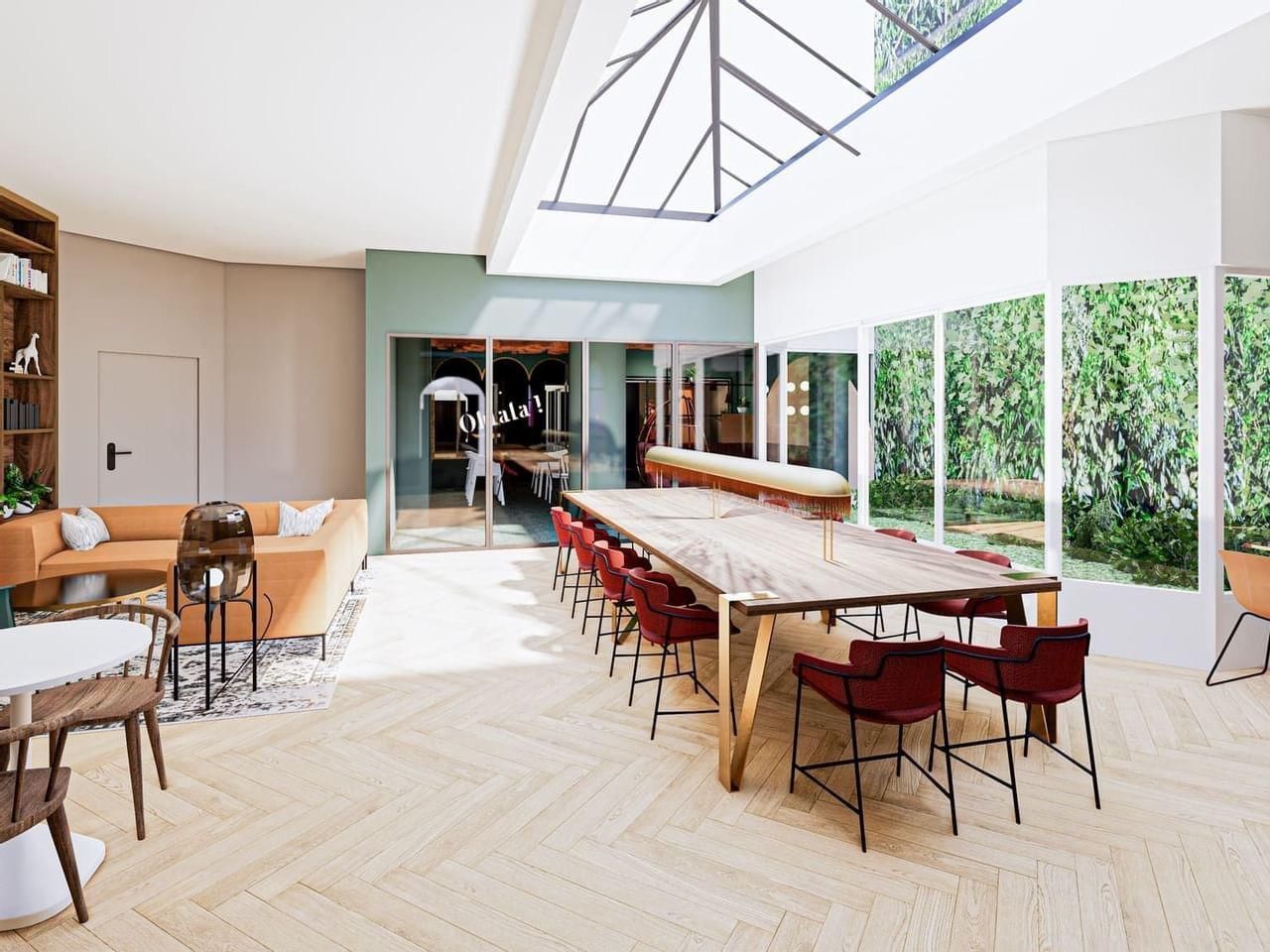 A 10-minute walk from Saint-Lazare station, this meeting room is nestled in a fully renovated 19th-century townhouse. The large glass roof above the main meeting table makes for a bright and airy setting! 12 people can sit around the rectangular table in the center of the room.
Other smaller, cosier areas make up this beautiful meeting room, leaving plenty of room for more informal discussions. On arrival, your partners will be guided by smiling reception staff to ensure that your business meetings take place under the best possible auspices.
2. Meeting room at the foot of La Gare Saint-Lazare - Paris 8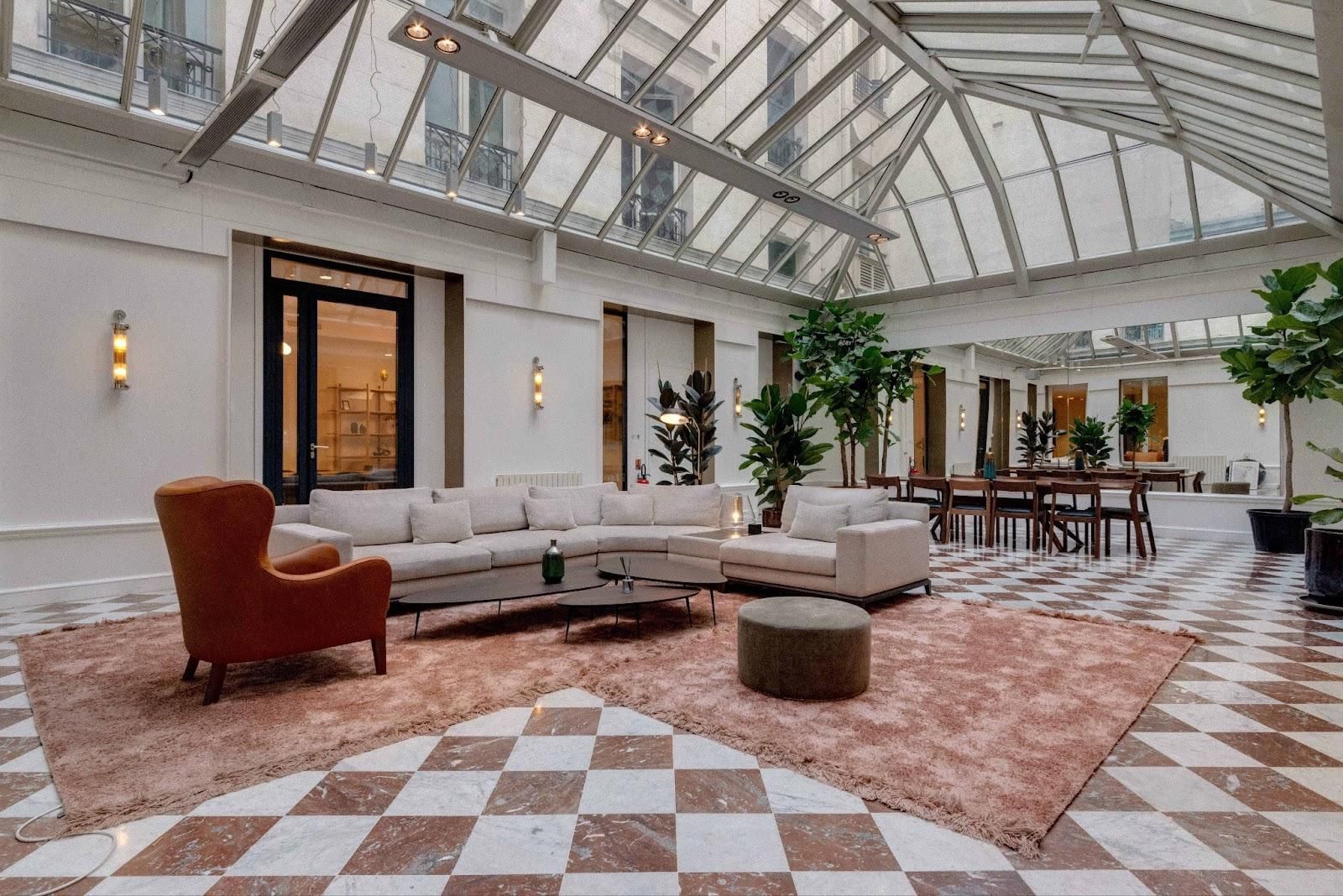 Want to impress your customers? Show them what Paris' most beautiful Haussmann buildings look like? Welcome them to this unusual venue just 20 meters from the entrance to the Gare Saint-Lazare.
Whether they're coming from Trouville, Caen or much further afield, your guests will easily find the establishment. On the spot, they'll enjoy all the charm of Parisian architecture: large glass windows, parquet flooring, moldings, designer furniture... Given the size of the room, any layout is possible and its capacity can be adapted to your needs.
3. Plant meeting room - Paris 2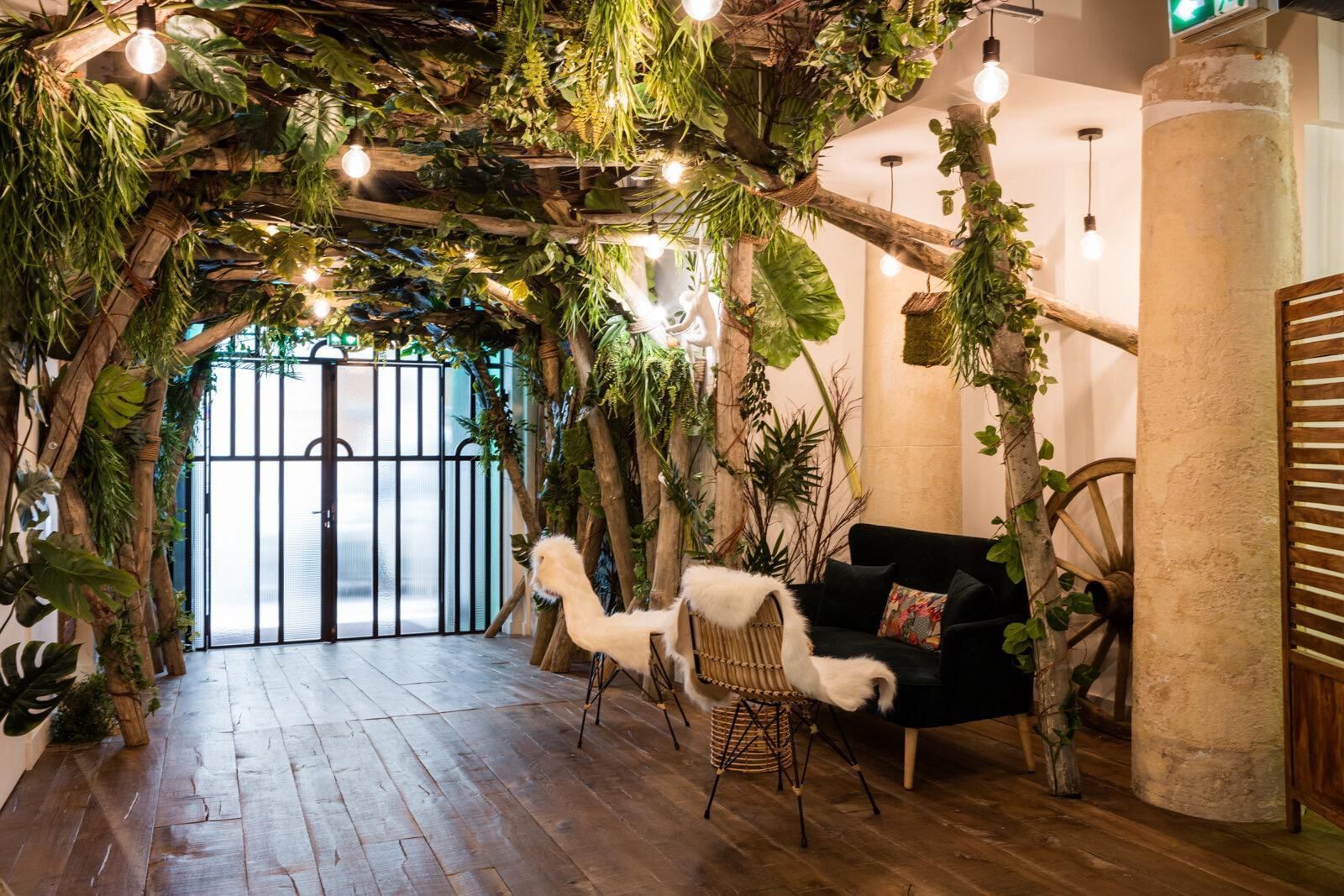 Would you like to take your customers and partners on a tropical adventure? Host your meeting in this green setting, nestled in a surprising building constructed in 1792, in the heart of the Sentier district. In addition to this intimate, cozy space, the establishment boasts 17 modular rooms, some of which can accommodate up to 100 seated guests.
On the day of your event or the day before, you'll find everything you need to organize your meeting:
video projector or 4K TV ;
videoconferencing system;
stationery and utensils;
flipchart ;
inspiration wall ;
on-site catering ;
checkroom and lockers...
To find out more about this responsible event space (ISO 20121 certified), please contact us.
4. Convivial meeting room in the Bastille district - Paris 11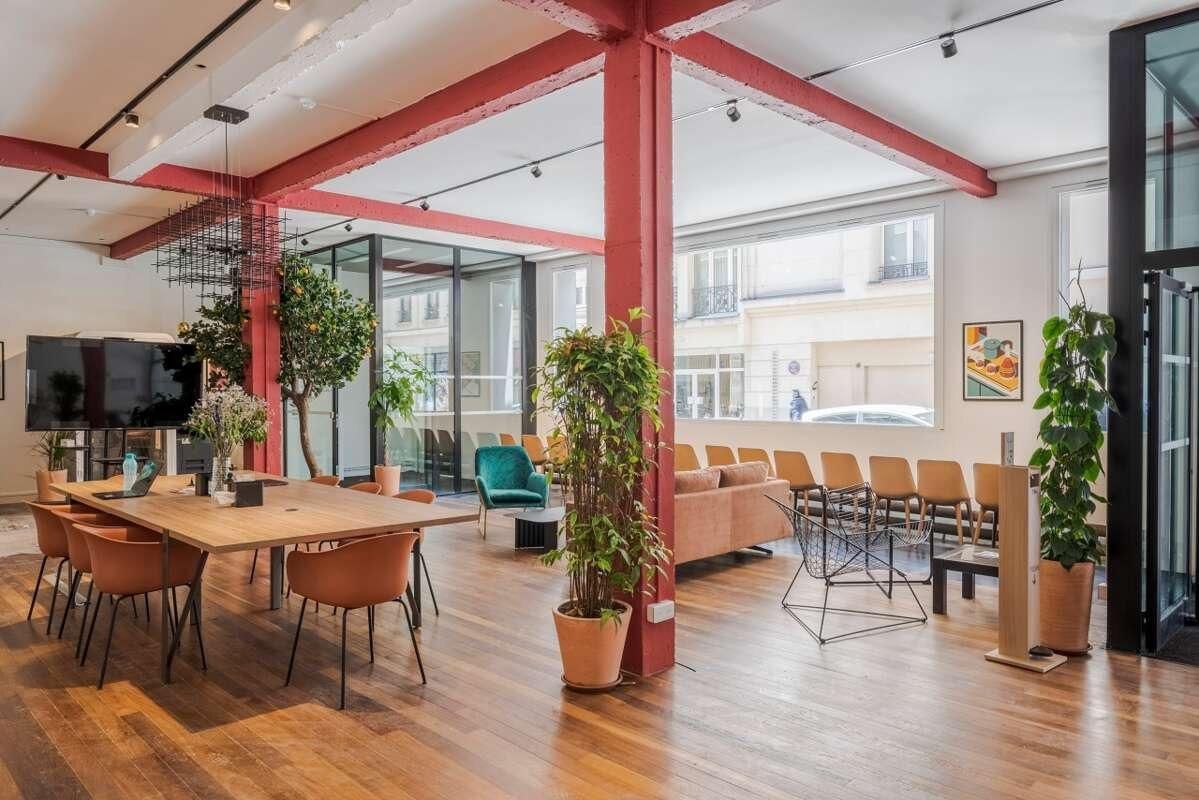 An exceptional event calls for an exceptional venue! This 100 m2 meeting room can be fully privatized. You can organize classic meetings in the same configuration as shown here. But you can also transform it into a unique reception venue in Paris 11. L'Espace can accommodate up to 50 people for cocktails and up to 35 people for theatrical events.
To find out more about possible configurations, browse our ultimate guide to meeting room layouts.
5. Meeting room in a wooded garden - Paris 16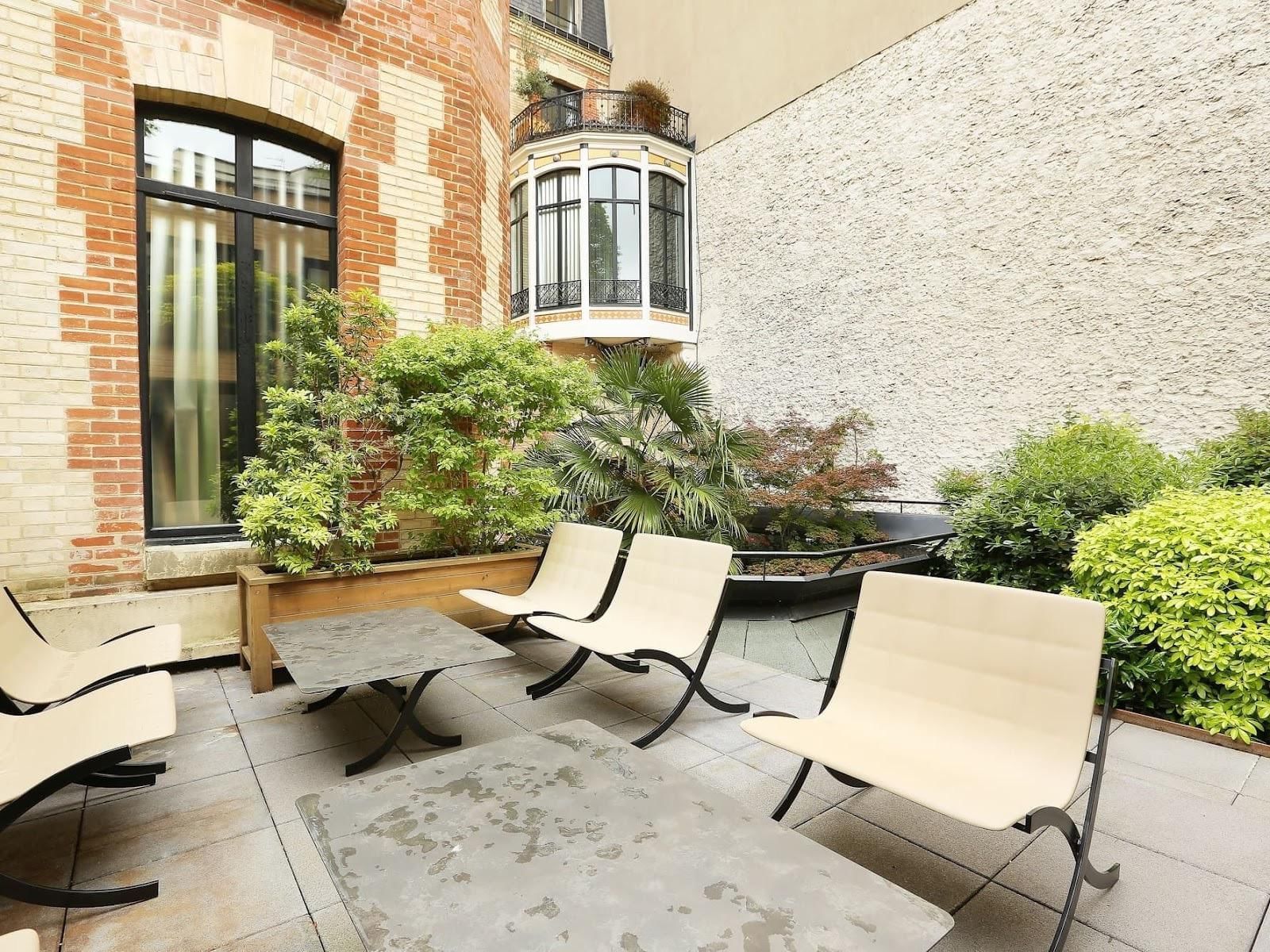 Have you checked the weather forecast for Paris this weekend? Fortunately, this list of the most beautiful meeting rooms in Paris includes an outdoor option.
This space is more suited to informal meetings and brainstorming sessions for up to 6 people. Once the work is done, your colleagues can take a vitamin C bath and relax, effectively combating stress and bonding.
6. Fun meeting room - Paris 11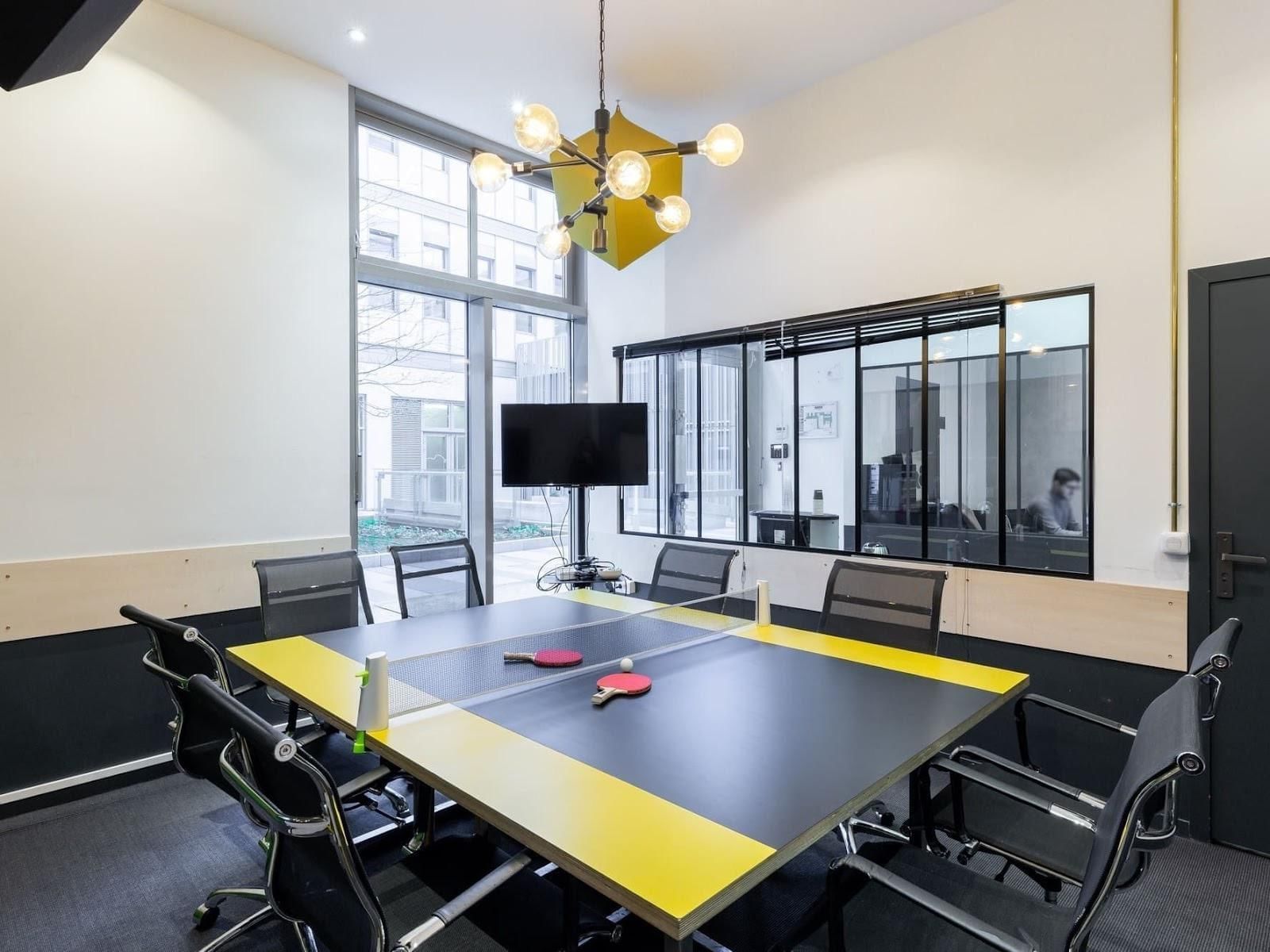 Looking for a fun meeting room in Paris? This space, halfway between a meeting room and a gym, is sure to delight your guests.
The first 45 minutes can be devoted to presenting your service, negotiations or any other professional discussion.
Then the last 15 minutes can be devoted to a lively game of table tennis. Who says you can't combine business with pleasure?
7. Meeting room with view of the Eiffel Tower - Paris 15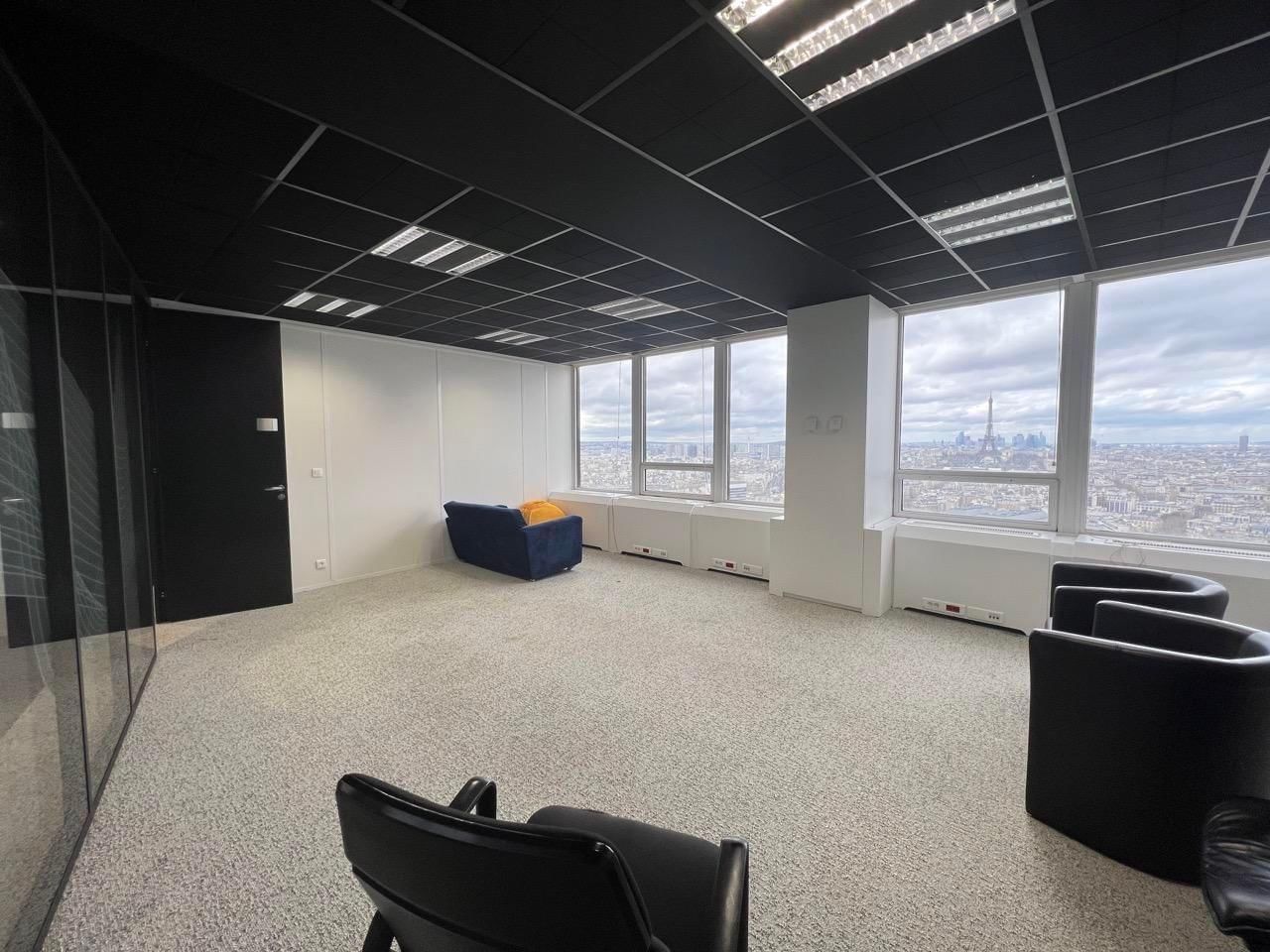 Do you have a foreign clientele? Give them a view of the Eiffel Tower while they're in Paris!
This large meeting room is located in the Montparnasse Tower. Meeting participants will only have to walk a few meters when arriving by train at the Montparnasse station.
This strategic location makes it one of the best-located meeting rooms in Paris.
8. Bright, modern meeting room - Paris 12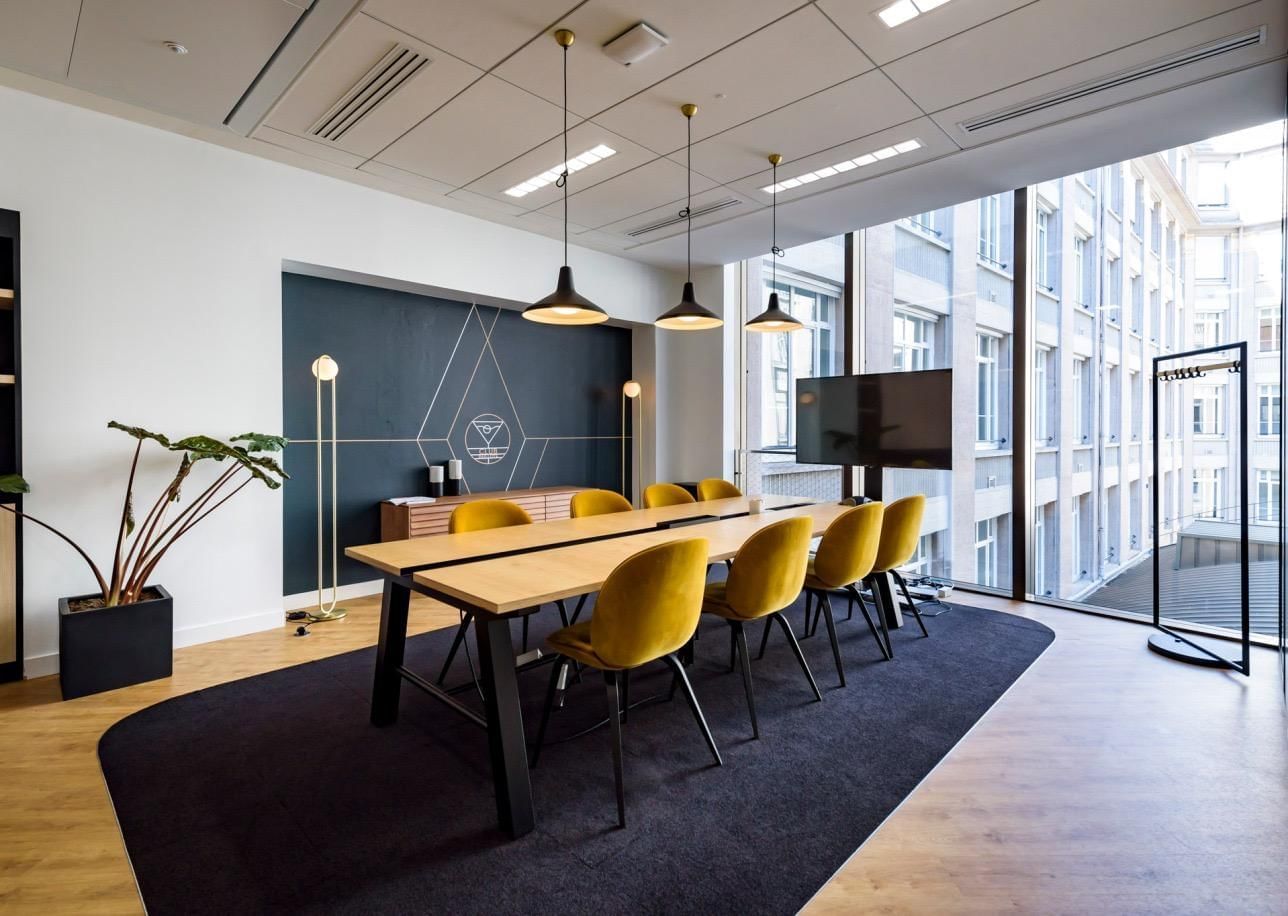 Strategically located opposite La Gare de Lea, this meeting room reflects the image of the Gare de Lyon district where it is located: chic and popular. By opting for this bright room, you benefit from the latest IT and security equipment, so you can get connected in no time.
What's more, you'll be assigned a well'manager to ensure that your event runs smoothly. Finally, a selection of caterers will be at your disposal so that you can invite your guests for lunch or dinner.
Would you like to reserve this attractive meeting room for your next event? Contact our team!
9. Meeting room with kitchen - Paris 9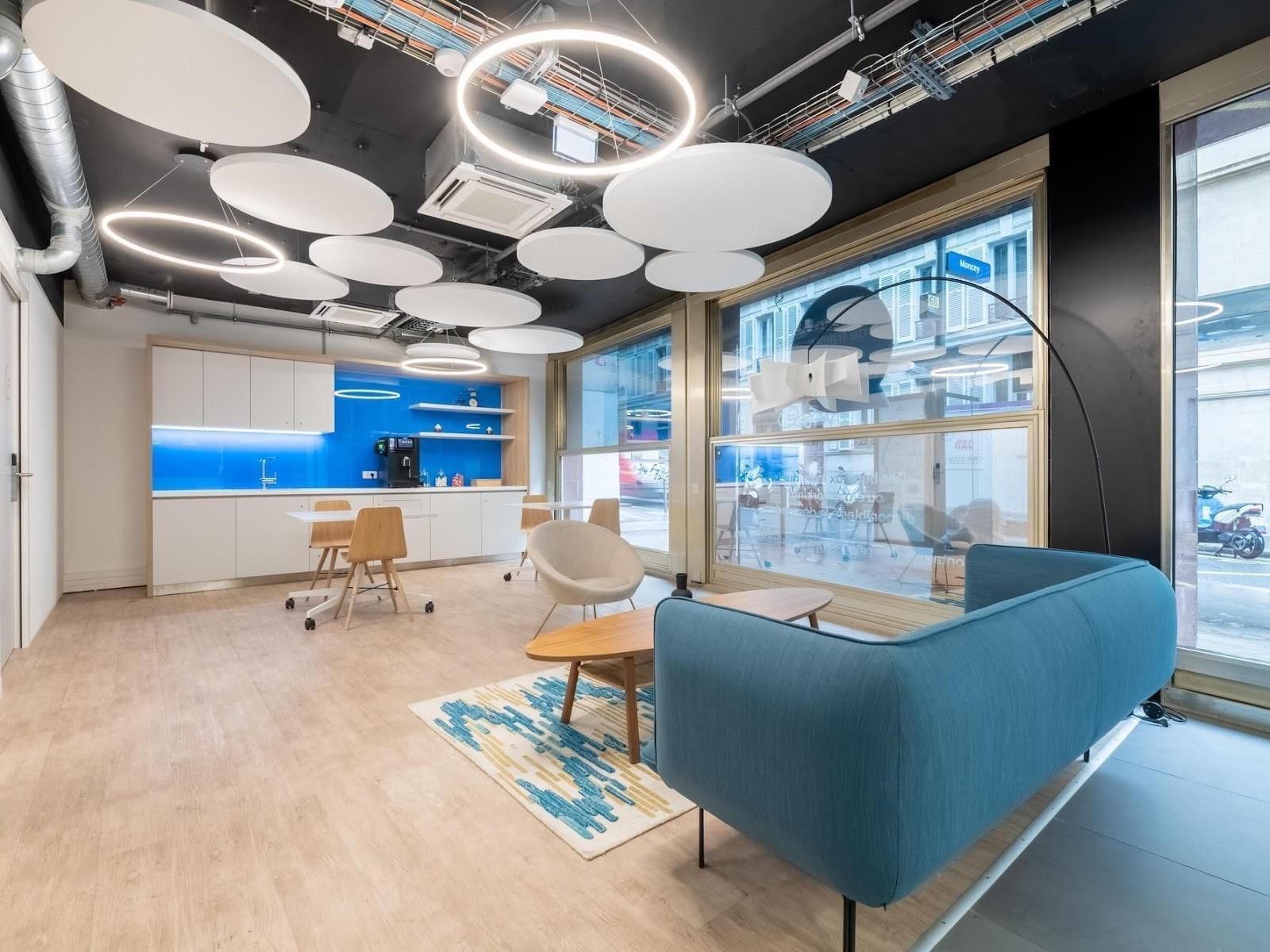 Do you like simple, sober and efficient spaces? Then this meeting room with kitchen may be just what you're looking for.
The abundant natural light inside the meeting space will help each participant stay focused throughout the meeting. In this configuration, the meeting room can accommodate 4 people.
However, as its surface area allows, you can configure it in a U-shape or in the format best suited to your business event.
10. Colorful and creative meeting room - Paris 1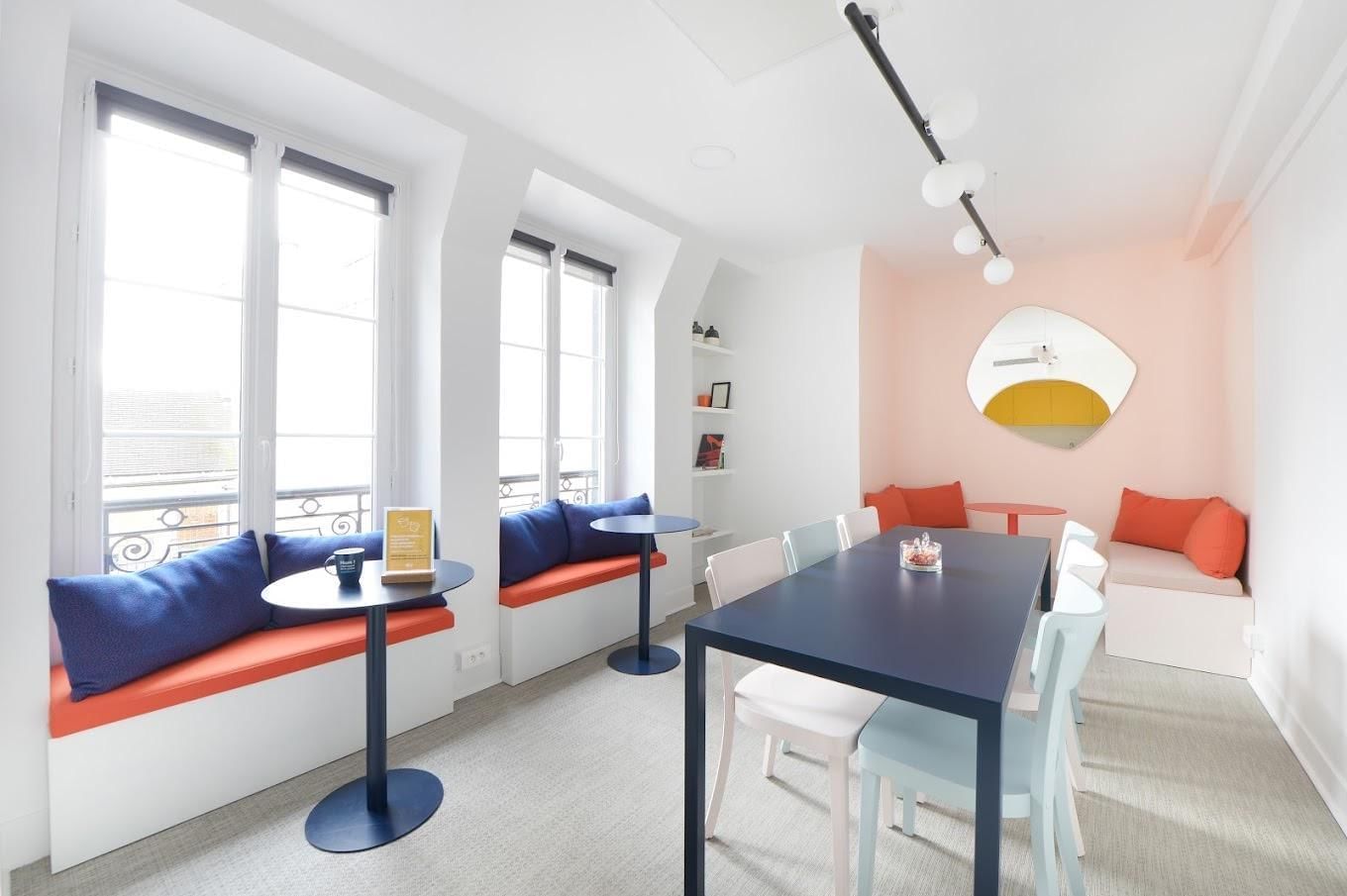 Let's end our tour of the most beautiful meeting rooms in Paris with this colorful room located between the Forum des Halles and the Georges Pompidou cultural center.
As you can see from this photo, the workspaces in this establishment benefit froma peppy decor and beautiful balconies adjoining some of the offices. But what you don't see is that this Paris meeting room is equipped with a bright yellow kitchen. You'll be able to welcome your clients at lunchtime and call on a private chef to organize an unforgettable meeting right in the heart of Paris!
Summary of the most beautiful meeting rooms in Paris
How many people are you going to invite to your meeting: 3, 11, 35? The answer to this question will help you choose the most appropriate meeting room for your business event.
All these meeting rooms are available for booking on workin.space. And if you're new to us, we also offer private offices, open-plan workstations and entire meeting rooms. Whatever your business needs, our experts are here to help you find the perfect meeting room.
From now on, here's how to find the right offices for your employees.
Top 10 most beautiful meeting rooms in Paris

14/11/2023

Top 10 most beautiful meeting rooms in Paris

Are you looking for the most beautiful meeting rooms in Paris? The best decorated? The most hidden and unusual? Our selection is sure to please!

What is the managed office?

25/04/2023

What is the managed office?

Newborn in the jargon of new generation workspaces and corporate real estate, the operated office is now making its appearance. A concept that goes further than coworking, corpoworking and shared work spaces.

Top 7 coworking spaces in Bordeaux

07/02/2023

Top 7 coworking spaces in Bordeaux

Coworking spaces are constantly innovating and evolving their concept. Discover the most attractive coworking spaces in Bordeaux.